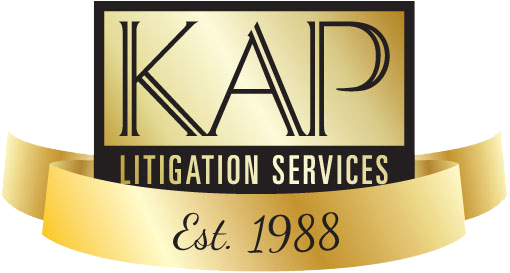 URGENT – COVID-19 Update
As you may be aware, due to growing concern regarding the spread of Covid-19, KAP Litigation has preemptively scaled back all operations out of an abundance of caution.
As a company we made a decision to take immediate action to practice social distancing as the health and safety of our Employees, Clients, Families, and furthermore the wellbeing of our Communities – both locally and globally, are of the utmost importance.
As the situation has developed over the past few days, we have suspended from our services all physical pickups and drop offs, physical attendances at court, and physical service of documents.
Please note: We have reformatted our business model to assist you during this period of reduced operation. While we have temporarily closed our phone lines, we are continually monitoring our general email address. Please reach us by sending your inquiries to  kap@kaplitigation.com  for any questions.
 We are ready and available to assist in the following services:
ELECTRONIC FILINGS: Currently we are set up to issue or file any Statement of claim, Notice of Action, Notice of Intent, and Simple Defences (no counterclaim or crossclaim available at this time). More availability will arrive soon, as the court plans to roll out a largely increased selection of eligible pleadings this coming Monday, March 23.
SERVICES: By mail or Fax. With certain availability to physically attend based on our approval and thorough vetting for safety.
AGENT SERVICES AND FILING: Subject to confirmation based on location and agent availability.
ONLINE SEARCHES: MTO (Drivers Licence and Plate), Corporate, Property, Bankruptcy.
As the situation evolves further, we will be monitoring and adjusting as necessary. Once the courts resume full operations, we will follow suit and update you accordingly.
All outstanding matters currently in our possession will be postponed or reviewed for E-Filing availability. We will make contact on all materials still in our possession that could potentially be filed in this way.
Please visit our website @ www.kaplitigation.com for any updates to our service model.